Dinosaur Park is the biggest market to our Handmade Animatronic Dinosaurs without any doubt. Traditionally, static fiberglass dinosaur is main character in the park because of early unused molders and sculpted skill. According to these skill and molders, experienced fiberglass staffs are easy to make fine dinosaur sculpture. These static dinosaurs also be exhibited in dinosaur parks in the world such as Poland, Czekh and Croatia etc. in the eighties last century.
But, with popularity of Animatronics in nineties, fiberglass dinosaur gradually out of sight because of moving dinosaur entertainment. Dinosaur Park Animatronic Dinosaur gets rid of weakness of static and gives life to dead dinosaurs. They look like creatures alive and come out the earth for roaring millions years loneliness.
In the spring 2012, 35 vivid big dinosaurs came to Zagreb suburbs outdoor playground. They must demonstrate excellent performance to local people with heavy burden. That is first show of our dinosaur products in Croatia, so good performace and good returning. 7000m² exhibiting site of outdoor built specially for Croatia Dinosaur Park, which been established by raise funds from local government.
New Dinosaur Park wanted to follow trend of new attractions of dinosaur, so imported popular Animatronic Dinosaur Attractions for decorating. After finalizing Animatronic Dinosaur Price, client planed layout of dinopark area.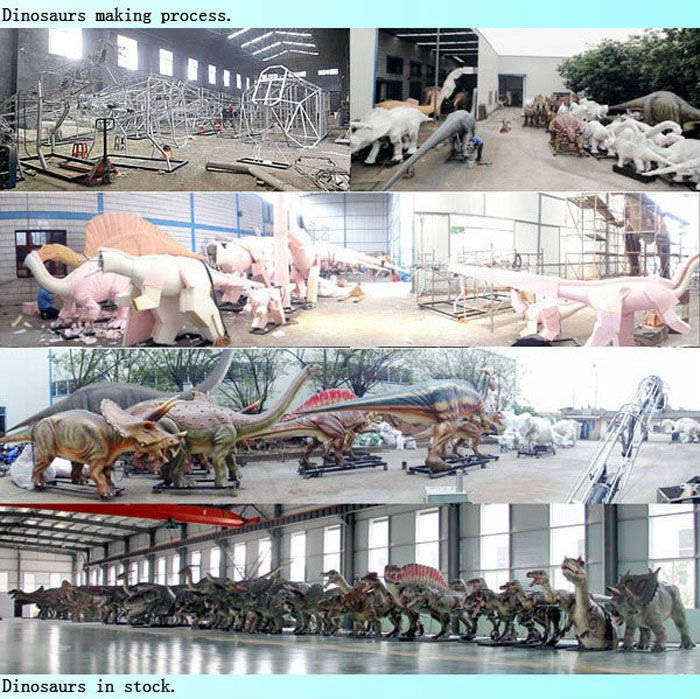 Related Topics: Handmade Animatronic Dinosaurs, Static Fiberglass Dinosaur, Dinosaur Park Animatronic Dinosaur, Animatronic Dinosaur Attractions, Animatronic Dinosaur Price.